Sunday, August 13th - Channel 37
Air Dates
Every Sunday at 8am
Description
The Children's Hour is a weekly radio show created for and with kids. It covers diverse topics using interviews, storytelling, poetry, music, and discussions on the air.
Description
The show will help people discuss opinions on hard topics and elaborate on solutions to the problems.
Air Dates
Sundays at 10am
Description
If you're a "baby boomer" (and even if you're not) and tired of commercial FM radio, then Eclectic Hours is for you. Here is a show where contemporary folk meets "esoteric rock" (the stuff you wish the classic rock stations would play). Hosted by Paul Porzio, the show goes back to the roots of the progressive rock FM stations of the late 60s and early 70s and delivers a format that presents a wide spectrum of music, yet finding a connection throughout a music continuum. You end up with a show with a respect for the past and a sharp awareness of the new, providing a pleasant Sunday morning listening experience. There are some interesting and fun interviews as well. Some of the interviews heard on Eclectic Hours have included Todd Rundgren, Steve Forbert, Susan Werner, Rickie Lee Jones, Christine Lavin, Patty Larkin, Cheryl Wheeler, Ellis Paul, Janis Ian, Aztec Two-Step any many others. Start off every Sunday with an exciting collection of music.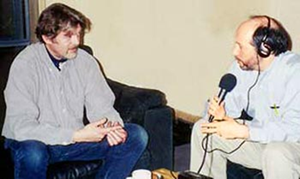 Air Dates
Sundays at 2pm
Description
The Random Hour covers current hot topics, interacts with local artists, plays various music, and covers entertainment and political happenings in the DMV area.
Air Dates
Sundays at 5pm
Description
If you enjoy comedy in many forms, you'll appreciate The Lighter Side. Join host Andy Hammel for an hour of novelty music, rock & pop with a comic twist, and spoken stand-up comedy on records. You'll hear comics of today and decades past, punctuated by DJ commentary. Pure entertainment!
Air Dates
Saturdays at 6pm
Description
Join Host Matthew Moore for a segment filled two hour show called 'The Psychedelic Circus'.  Is the future of radio to be found in the past?  Will we know the answer when we see it or hear it?  I don't know.  I do know that you don't have to bring your own headspace to enjoy "The Psychedelic Circus".  There is plenty of headspace waiting for you every Saturday night.  Psychedelic baby, won't you take a trip with me?  The Psychedelic Circus - where the buzz can shake you clean...
Air Dates
Sundays at 8pm
Description
Enjoy an hour of music like no other. Whether we take a trip to New Orleans, grabbing some rays on deck by the water, or start out on a road trip down Route 66, the right playlist can make a difference. From Bach to Bruno Mars, the right set of tunes, like the right ingredients in a stew, can make that time go from "nice" to "wow, I want to hear that again". Sometimes you will agree and sometimes you won't, but you will never hear the same set twice, or be bored with the same old list of "classic rock". The music of life is like a banquet, and a good portion of us are starving to death.
Join your host, Blake Mitchell, as he shares his vision of what makes a great hour of music.
Air Dates
Sundays at 10pm
Description
Serving up heaping portions of progressive music from around the world.  From the most melodic to the most Avant, something for everyone on the menu.  The Prog-Rock Diner with Debbie Sears has been providing Fairfax County with a healthy serving of Progressive Rock since 1991!  You'll find everything from Nektar to The Muffins on the new menu at the 'Diner'.  The Prog-Rock Diner brings a musical feast to the airwaves that will certainly appease your progressive palate!
Website