Monday, January 22nd - Channel 37
Air Dates
Mondays at 8am
Description
Every week, On the Money! brings you hard-hitting advice to help you make informed money decisions and protect you from the self-serving forces within the financial industry. On the Money! also discusses many topics such as retirement, investment strategies, and more. You will also hear riveting interviews featuring high profile guests who will inform and educate you. So, let go of your financial woes and be sure to listen to my nationally syndicated On the Money! on Radio Fairfax.
Air Dates
Mondays at 9am
Description
Back in the Day takes you on a journey - back through time - to relive some of the best memories of the good old days!  Join the Dark Knight of radio through this journey with music that evokes vivid memories of love and life.
Air Dates
Mondays at 11am
Description
This nationally syndicated show features weekly, live audience celebrations of America's oldest musical artform. . . Folk! From the Blues to Bluegrass, Country to Celtic, old-timey to new singer/songwriters, the WoodSongs takes the grassroots point-of-view. Like the host says each week, "You don't have to be famous to be on WoodSongs - you have to be good!" The show introduces new independent artists from around the world. As one music critic described the show, "It's like A Prairie Home Companion meets Conan O'Brien."
Website
Air Dates
Mondays, 12pm
Description
For all who are curious about the radio experience!  Join Ted Little as he recreates the many modes and moods of radio before the 1970's.  Highlights hits and rarities from Elvis to Sinatra.  New releases are also featured.  There is an emphasis on audience and community involvement.  You'll hear comedy and adventure segments, our radio star search contests, and interviews with Rock & Roll greats as well as new talent.  Beginning with the hits of the early 60's thru this week's latest, the emphasis is often on overlooked musical treasures.  We have varying features each week to both inform and entertain!
Air Dates
Mondays at 2pm
Description
Dead Poets' Forum offers listeners an opportunity to discover classical poetry, folklore, ethnic music and the cultures of India, Turkey, Iran, Pakistan, Bangladesh, Egypt, Afghanistan and other countries.  Poets of the Old World were powerful, intriguing, beautiful, and simple.  Travel with the Poets of the Old World and you will transcend time, place, culture, language and traditions.  This hour will evoke your curiosity of world history, geography, and most importantly build an ardent relationship with listeners. 
Website
Air Dates
Sundays at 4pm
Description
DMV Experience Radio is a spin-off of the DMV Expereince Television shows which features a variety of Christian performing artists and topics important to Christian growth and awareness.  Listen every Sunday to DMV Experience Radio - your church after church!
Air Dates
Mondays at 7pm
Description
Your Monday will never be the same.  The party is brought to your house Vandalay style with the Vandalay House Party every Monday at 7pm.  The Vandalay House Party is an hour of great music (from Adele to ZZ Top), off beat news and the fan's view of the Washington Redskins.  The Vandalay House Party brings it every Monday at 7pm!
Air Dates
Mondays at 8pm
Description
Join John Howe on your journey into The Rugby Committee, the only rocking rugby, rolling, rocking rugby show ever in the United States. Can you believe it? The rest of the Rugby Committee consists of: numero uno Janet Young, the illustrious and beautiful photojournalist; second up is Mr. Dumont Walker, head of the Washington Rugby Football club and also Walker Sports; and third but not least, the cantankerous and ever humble Mr. Bill Gardner 7s specialist and manager of many, many 7's teams.  Mr. Ernest Cardwell our favorite rugby roving reporter is also takes part in the festivites. Listen to this show and they will tell you as much as they know about international rugby, domestic rugby, and the interesting and controversial stories that are associated with this wonderful game.
Air Dates
Mondays at 9pm
Description
The Finner and Clark Expedition (FaCE) is intelligent talk radio.  Unlike most talk radio shows, the Finner and Clark Expedition is NOT focused on whining, complaining, and blaming others for the state of our personal lives, or the state of the universe.  FaCE is 1/4 politics, 1/4 social issues, 1/4 technology and the Internet, 1/4 sports and popular culture, and 1/4 science and education.  All this fits in a one hour show through the magic of digital compression and a lot of fast-talking.  You can learn more about Finner and Clark, read their written work, and listen to archives of previous shows at finnerandclark.com. 
Website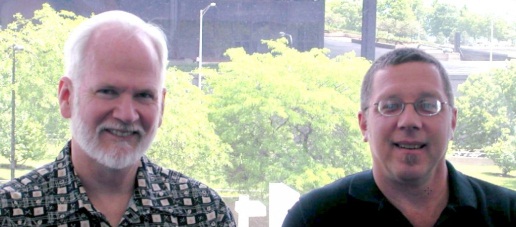 Air Dates
Mondays at 10pm
Description
Beale Street Caravan is a one hour non commercial radio series broadcasting live recordings of Memphis music and its derivative forms to an international audience of 2.4 million worldwide weekly listeners on over 400 stations around the globe.
Air Dates
Mondays at 11pm
Description
Papa's Basement is DC's premiere comedy podcast.  Join your humble comedic genius host John Papageorgiou, and his co-host Pete Maybe as they sharea little comedy and the NOVA experience for the late-night crowd.